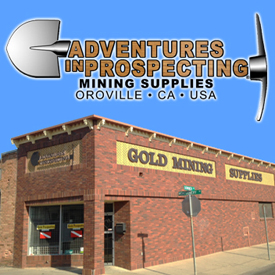 Visit the AIP Mining Supplies Store or Shop Online Now That You're Here! WORLD WIDE SHIPPING!
You've seen Adventures In Prospecting Series at Prospecting Channel and/or on Television. Now visit The Adventures In Prospecting Mining Supplies Store!
Store Features:
FREE Parking
FREE Gold Panning Lessons
TV Screen Playing Full Versions of Adventures In Prospecting
Knowledgable Miner's to Help meet your Mining Goals.
All the Gold Gettin, Treasure Seekin; Gear: Metal Detectors, Gold Pans, Sluices, Suction Devices, and much more arriving every week!
We now carry DIVE GEAR!
Come on by, give us a call, or order here online!

God Bless & Gold Luck to 'Ya!
SHIPPING AND PAYMENTS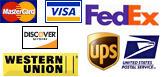 ADVENTURES IN PROSPECTING FEATURES THESE BRANDS


Inventory/Prices Vary From Oroville Store Location
. SAVE MONEY: When buying more than one item, contact us by phone or email for possible discounted combined shipping amounts. Be sure to provide your shipping address. We will then send you an itemized Paypal invoice which you can use with any credit card to complete your multiple item transaction.
STORE LOCATION STOCKS THESE PRODUCTS AND MORE THAT ARE NOT LISTED BELOW
HIGHLIGHTED ONES ARE AVAILABLE HERE ONLINE:
Dive Gear
"HOW TO" Books & DVDs
KEENE Sluices, Pans, Classifiers